Have a look at this chart.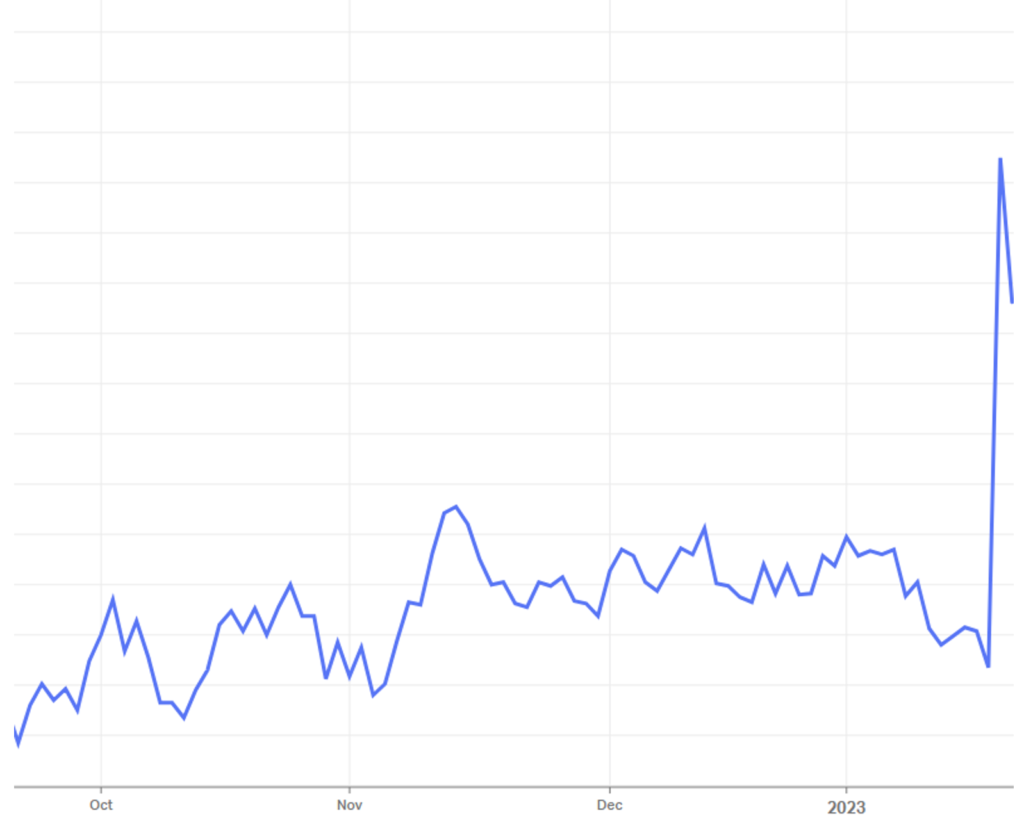 It's a chart of the last four months of trading in Rovio Entertainment stock, (ROVIO.HE). Now, did you notice that enormous spike that's just recently occurred?
It's hard to miss.
Here's what happened, and why investors in the video game industry should rejoice.
Playtika Holding Corp. (PLTK), a $3.8 billion market-cap mobile video game developer, based in Israel, has been pursuing an acquisition of Rovio, based in Finland, for a few months now.
According to MarketWatch, Playtika is now offering a 60% premium (adjusted up from their original offer back in November) to acquire Rovio… for 9.05 euro ($9.84) per share.
Now, a 60% premium to acquire a company is big. In fact, when Microsoft bid to acquire Activision-Blizzard, many felt its offer – a 45% premium – was big…
But 60% is huge.
Hence the massive spike in Rovio's stock price.
Currently, Rovio is trading near 7 euros/share, or roughly 26% less than the most recent offer from Playtika. Is there still meat on the bone here?
Rovio, you may recall, is the publisher of the insanely popular "Angry Birds" franchise, one of the most downloaded mobile games of all time.
And clearly, its assets are believed to be quite valuable.
Robert Antokol, CEO of Playtika said of the offer, "We firmly believe the combination of Rovio's renowned IP and scale of its user base, together with our best-in-class monetization and game operations capabilities, will create tremendous value for our shareholders."
(Discover a patented monetization technology that could truly revolutionize video game revenue generation, HERE)
Like we said earlier, Playtika's initial offer for Rovio was made during the last quarter of 2022. And seemingly rejected.
Will this new deal, offered at a 60% premium, go through? Or will Rovio shareholders demand even more?
Only time will tell. But nevertheless, this deal is exciting.
Now, while 2022 was a record-breaking year for deal values in the video game industry, we're already off to a hot start in 2023.
And, Celia Pearce, a Northeastern University professor of game design, doesn't see deal flow slowing down anytime soon, saying "It's going to continue to both happen and be controversial."
Its why investors in the space, especially those that could be on the receiving end of a buyout (at a big premium) should rejoice.
As much of the market remains mired in a bear market, the video game industry seems to be among the few areas still offering big opportunities.
Read more about potential M&A deals, and which companies could be on the receiving end of a buyout, HERE
Or, read more about the Playtika offer to acquire Rovio, HERE
Source: https://www.marketwatch.com/story/playtika-sweetens-offer-to-acquire-angry-birds-publisher-rovio-now-offers-60-premium-11674153614