Could Massive New Revenue Streams Follow? 
Amid COVID lockdown protests, China is now showing signs it may ease its tough video game restrictions. As a result, sales and revenues in the Chinese video game industry could more than rebound, they could explode.
More on this potential boom in revenue in just a moment. First…
In the summer of 2021, the Chinese Communist Party (CCP) issued new regulations for video game companies and gamers, famously calling the industry "spiritual opium."
In hopes of curing the nations "addiction" to this spiritual opium, the country's National Press and Publication Administration restricted gaming to just three hours a week for those under 18. In addition to limiting play time, the CCP, which has full authority over all video game releases and monetization, froze new game approvals.
But now, China says its tough restrictions have "achieved a step toward resolution," claiming over 70% of its youth are now gaming for less than 3 hours a week.
As a result of its big cultural "victory," Chinese regulators have just approved 70 new games for release. Among the approved releases is Metal Slug: Awakening, a Tencent title. As China seems to be opening back up to the industry, Martin Lau, president of Tencent, said the company is seeing "positive signals across the path of macro and regulatory normalization."
The Metal Slug release marks Tencent's first domestic commercial game license in a year and a half, and it could not come soon enough for the company.
Since the CCP began its crackdown in the summer of 2021, shares of Tencent (TCEHY) have collapsed by as much as 55%.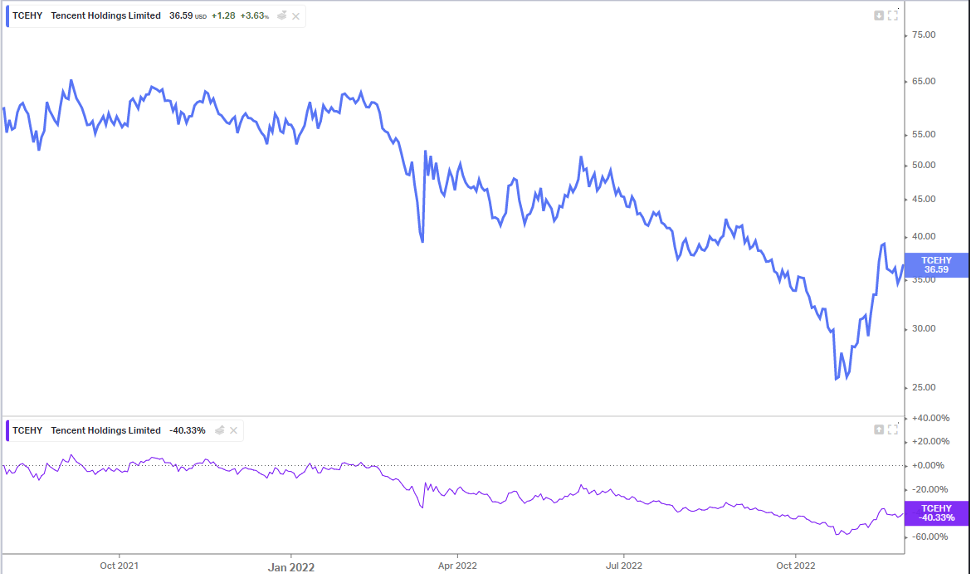 However, over the course of just the past few weeks, shares have strongly rebounded, up over 40% from lows.
While the easing of restrictions on gaming is obviously good news for domestic companies like Tencent, it could mean great news for other companies in the video game industry that are not located in China.
Why?
As the world's second largest economy, an "opening up" of the Chinese market could lead to new revenue streams for any company that launches and monetizes games there.
According to Statista, China has roughly 666 million video game players, who each spend an average of 445 yuan (US $62) on games. That equates to a $42 billion market.
But if China does truly open its video game industry, the market value could explode…
Especially if new monetization methods are utilized.
One such new monetization method is called in-game eCommerce. It's a monetization method where video games essentially become intertwined with eCommerce.
Right now, most video game monetization methods involve transacting in digital items within games, subscriptions, advertising, or game purchase fees. But digital items, for example, are for the most part only used within the games themselves… items like skins, or paid upleveling. They have no use in the real world.
However, in-game eCommerce monetization means gamers could potentially buy, sell, or trade in real-world products, right inside their favorite games. Yes, real products, not simply digital ones that have no real-world value.
Should this monetization method be incorporated (in just China), revenues associated with gaming could go gangbusters. Of course, should the method be incorporated globally….
The revenues associated with video games could balloon to unbelievable levels.
Discover a US-based video game technology company, with a patented in-game eCommerce platform, HERE
Or read more about the possibility the Chinese ease restrictions on gaming, HERE
Source: https://www.cnbc.com/2022/11/23/china-shows-signs-of-easing-its-intense-crackdown-on-the-gaming-sector.html