Despite still waiting to close its Activision-Blizzard deal, Reuters has reported Microsoft may be eying the purchase of video streaming giant, Netflix.
We'll get to why this could be so important to investors in the video game industry in just a moment. First…
Microsoft, the tech and video game giant with a $1.77 trillion market cap, has grown its portfolio substantially of late through its bold acquisition strategy. It's still pending acquisition of ATVI, valued at $69 billion, will be the largest acquisition in the history of the video game industry, if and when closes.
However, the ATVI deal is not its only monster acquisition. Microsoft famously acquired LinkedIn for $26 billion, Nuance for $20 billion, ZeniMax Media for $8.1 billion; not to mention its earlier $2.5 billion acquisition of Minecraft developer, Mojang.
Now, According to Satya Nadella, the CEO of Microsoft, the company wants to add a streaming platform to its growing list of tech assets and is looking to do so as soon as next year.
And their top target, according to Reuters, may be Netflix.
While Netflix is best known for its video streaming, it has been quickly increasing its footprint in the video game industry with the launch of a number of strong titles; and now has over 30 mobile games available through its platform.
But while Netflix is growing its streaming and mobile title database, its VP of game development, Mike Verdu, recently said "We're very seriously exploring a cloud gaming offering."
And that's where the Netflix/Microsoft deal might make most sense.
Earlier this month, Netflix revealed that it lost 1 million subscribers, resulting in Amazon Prime becoming the top streaming platform, globally.
Of course, the company has been bleeding paid subscribers since its subscription acquisition heights during the pandemic, and as a result its stock is down a whopping 54% year to date (as of this writing).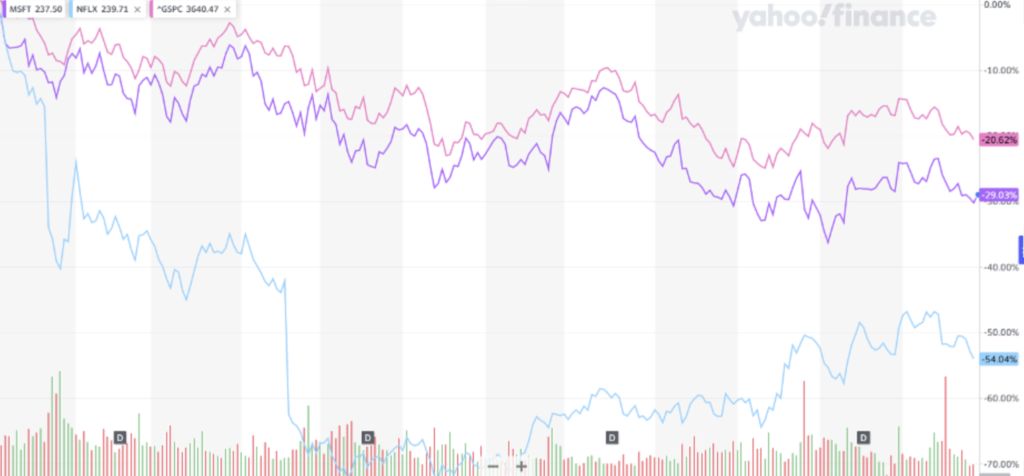 While Microsoft stock (MSFT) has not outperformed the broad market this year – it's down 29% YTD compared to (-) 20% YTD with the S&P 500 – the company is in far better financial shape than Netflix, and has the "juice" to make the deal happen.
Perhaps most importantly, Microsoft owns the second largest cloud computing service on earth… and is itself competing with Amazon for the top spot…
Making a Microsoft/Netflix marriage a potentially beneficial deal for both companies…
Allowing them to take on their mutual streaming and cloud computing foe, Amazon, head on.
Why this could be so important for video game industry investors:
With so much consolidation happening in the video game industry, and stocks mired in a bear market, investors who are on the buyout end of a deal could stand to make potentially lucrative profits. This is especially true if a premium is paid for the stock, and its pre-deal investors got in at a decent price.
In the MSFT/ATVI deal, for example, Microsoft announced it would pay $95 a share for ATVI. The day before the announcement, ATVI was trading in the $65 range, making the premium paid to pre-announcement ATVI investors a whopping 46%…
Would Microsoft pay such a massive premium or NFLX?
Discover other potential M&A deals in the video game industry, HERE
Or, read more about a possible MSFT/NFLX deal, HERE